Join us as we interview one of our NHS workers, Dippa and get to know what it's like working on the frontline, the positives, the challenging aspects and all she has achieved! 
We began asking Dippa some general questions and it soon became apparent just how hard she really does work to keep everyone safe and do her job to the best of her ability! We are really proud to have her representing Domus and anyone who is greeted at the doors in A & E by Dippa are fully aware that they are in extremely safe hands.
Please see below our interview with Dippa:
Domus Recruitment: "Hello Dippa, Thank you for agreeing to take part in this interview! We really appreciate it! Let's start by asking you what your current role is?"
Dippa: "I am a Clinical Navigator (Band 7) for the NHS."
Domus Recruitment: How and why did you get into the role?
Dippa: "I had an email from Joanne at Domus Recruitment, stating this position so I said I was interested and that's how it all began! It was an immediate start so, we had a quick chat over the phone. It was understood that they needed someone who was triage trained. The client went through my CV to see if it was everything they wanted, I turned up for the shift and it was all go! I have experience working in many A & E departments throughout the UK and Channel Islands which includes resuscitation, triage, major, minors, I have even worked on A&E attachment units, so I would be familiar with this role!"
Domus Recruitment: "Great! It sounds like it all happened so fast and we're really pleased we could help to find this role for you! So, what are some of the challenges you find with the role?"
Dippa: "The verbal abuse we sometimes get from the general public! Especially because of the visiting policy, due to the COVID-19 restrictions (to safeguard general public and staff). At times it is very challenging, they can get nasty and get close to you. Triage at the doorway can be a bit more intense and I have once had someone shout to me saying "I pay your wages." In this scenario the general public intervened and we managed to calm them down, so it was all resolved. It can also be challenging in the fact that it's very fast-paced, you don't know what you're going to get through the door! Your eyes and ears have to be open to anything and everything at all times! Many a times staff go without breaks even during long shifts."
Domus Recruitment: "Wow! We can't even begin to imagine how difficult that must be, especially when you're trying to help people! What would you say is the most rewarding bit about the role?"
Dippa: "Patients saying 'thank you' and just knowing the whole team has made a difference in someone's life. I've had a family member bring me a bottle of water and a sweet just to say 'thank you' and this really makes a difference! The role is very spontaneous, whatever happens at that time, you deal with. You are constantly thinking on your feet, but I'm really proud that I represent Domus Recruitment and I represent the client, you've got to be vigilant, do your best and not breach confidentiality on any part."
Domus Recruitment: "It really seems like a little "thank you" can go a long way! And If you could change one thing about the role, how the role is perceived or how the public interact with people in your profession, what would it be and why?"
Dippa: "Communication with the public can be a problem at times, due to not knowing where to go and what is available, currently due to the pandemic, it has been difficult for the general public to ring their GP, alternatively using NHS 111 direct services (given hospital appointments, this is not the case A & E departments do not run on an appointment system). We offer various alternatives, which include own GP, out of hours GP, MSK referrals, walk-in centre, UTC and A & E departments, self-care, pharmacy advice and guidance and dental triage. We just need better communication."
It's really clear to see that Dippa is amazing at what she does, however, this is just a small example of how well she does in her role!
Dippa has been nominated for and even been a finalist for awards as a result of her work including The Women Key Worker 2021 Award!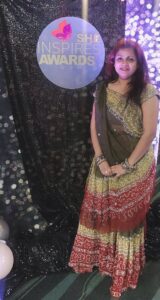 We just wanted to take the opportunity to thank everyone working within the NHS, Healthcare or Care sector that really do go above and beyond to keep everyone safe, you really are our Healthcare Heroes!