Photos by the Daily Mirror
Hannah Jobey and Jay Harris enjoyed a dream ceremony when they tied the knot in front of their loved ones.
But Hannah's grandma Liz Jobey, 86, missed out because of her condition. So the couple decided to have two weddings and re-enacted their big day at her care home.
They took the special parts of the day and recreated them for Liz, Hannah stated that she would "treasure the memories" from this day.
The primary school teacher donned her wedding outfit and cut a cake alongside her husband at the Eothen care home in Wallsend, North Tyneside, which specialises in caring for people with dementia.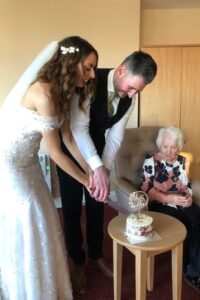 Photos by the Daily Mirror
Here's what Hannah had to say about the day:
"I always wanted my gran to be part of our wedding and doing it this way she could be involved in a way that meant she felt at home,"
"I really wished she could have been there on the actual day, but in the end I was so pleased we chose to do it this way.
"My gran was so relaxed and happy and that was so important to all of us. She kept holding my hand, not letting go, and looking at my dress.
"It allowed me and my family to create memories that we otherwise wouldn't have been able to do."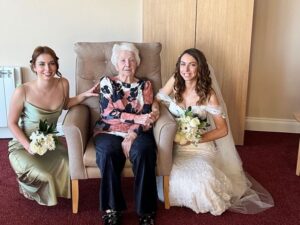 Photos by the Daily Mirror
The decision not to take her to the original ceremony had been "incredibly hard", Hannah's dad and Liz's eldest Son Steve, 62, explained.
"Mam has been unable to get into a car for the best part of two years," he said. "She gets very distressed. We concluded that it wouldn't be in her best interests.
"We didn't mention to mum that Hannah had got married as we didn't want to upset or confuse her. On the day itself, my sister Ruth went and got her ready and then Hannah and Jay came in dressed to the nines.
"When Hannah came in my mum was absolutely thrilled to bits. It was like a light was switched on.
Photos by the Daily Mirror