Last week, Domus Recruitment had the pleasure of being Headline Sponsors for the Home Care Awards 2023!
Whilst we were greeted with a champagne reception and 3 course meal, the day was about so much more than that…
To be in a room with such amazing ambassadors for the domiciliary care sector was one thing, but to witness them being nominated & winning awards they so rightfully deserve was really special.
On top of this, our very own Niall Adams (Team Leader & Executive Recruitment Consultant – Domiciliary Care), had the chance to present the prestigious "Grand Prix" award. Congratulations to the winners – SweetTree Home Care Services!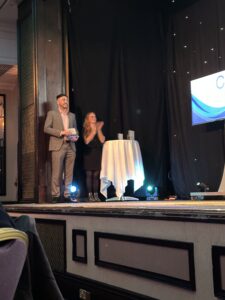 Our Domiciliary Care Team joined us on our table along with some special guests:
Tony Dainty – Head of Operations at The Care Bureau. We actually found Tony this position and have built such a great relationship with him that he has now become one of Domus' clients!
John Thirde from Home Instead Coventry – we found Chris his current Registered Manager so to have him with us was great!
We couldn't have asked for better guests to join us on the day – thank you both!
As Headline Sponsors, it was of course the duty of our Managing Director, Thomas Brandrick, to say a few words about the awards. In Thomas' words, "We work with people in the sector on a daily basis, so we understand the challenges that you all face, from skill shortages to Brexit and so much more. Today is about celebrating all of you who work so hard day in, day out."
A massive thank you to Olivia McKelvie and Matt Macnamara for organising such a wonderful day! Also a huge well done and Congratulations to all the winners and nominees.